I have spent the last six Decembers getting ready for Christmas in Florida. Needless to say, the weather there is usually pretty mild, and many a year the week before Christmas still brought highs in the 70s. So the last couple days have been a bit of an adjustment for me. I had to pull out my winter coat, scrape ice off my car's windshield, and even drove through sleet/ice rain last night to my work holiday party. Even though the cold weather has kind of snuck up on me, I like the idea of it actually feeling like winter! This Saturday Dustin had duty, so I decided to make use of the time by myself and listen to Christmas music while decorating our house for our first Christmas as newlyweds!
I decided that I love Pandora's Christmas station (as long as you don't listen to it for more than a couple hours at a time) and that my new red twist to my snowman themed tree turned out really cute! I have had a light blue snowman theme going on the last four years or so, but our new furniture is red and beige, so I tweaked, and only ended up spending $15 to add red garland and glittery ornaments to our tree (thanks to Old Time Pottery's awesome Christmas decorations).
I was worried our new cat Colby might try to attack the tree or climb up it, since he has all his claws, but he seems barely interested in it at all!
Since Christmas is only 20 days away, I began my Christmas cookie baking today. After three hours of rolling -pin-rolling and cookie-cutter-pressing, I have 132 cute little cookies ready to be iced over the next few days. I will post some pictures of the final products at the end of this week - can't wait!
Also, I finally ordered our FREE Christmas cards thanks to Shutterfly. I opted to have them stamp and mail them for us, so they are heading straight to their destinations as we speak!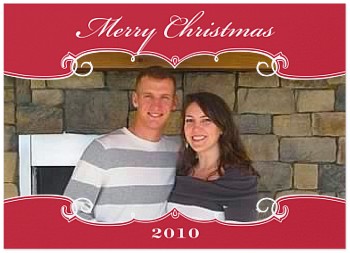 Cranberry Swirl Christmas 5x7 folded card