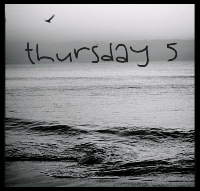 This is my first time doing the Thursday Five, but I have decided there is no time like the present to give it a try! If you want to do the Thursday Five on your blog, link up with Nicole from her blog here.
So I have to write 5 things that have made me...
I am

Excited

that Dustin and I are heading to Charleston, South Carolina this weekend for some food, historic houses, and much needed relaxation out of town!
It was absolutely
Delightful
that I was able to sleep in this morning because my school was on a two-hour delay due to the threat of crazy morning snowfall. It's funny how just an extra hour of sleep made such a difference to me!
I am
Thankful
that my students have been behaving really well this week. They have really started getting excited about some "word clubs" I posted on the wall, so all my little 5- and 6-year-olds are practicing their sight words like crazy! So motivated!
I think my wonderful husband, of 362 days so far, is my

Super-

hero. As we speak, he is out in the cold buying me some diet coke and Frosty because I am having a crazy sweet tooth. And he is actually really excited about whatever he got me for our Valentine Anniversary (we got married on Feb. 14 last year).
I am Appreciative to have such a great, loving family. My mom sent me a great care package this week, with lots of goodies for my classroom, like beads for making 100th day necklaces, books, and certificates for my students. She is even planning on flying out here to visit me for a week in March! My dad and brothers are pretty awesome too (don't want them feeling left out now).