I am joining in for Nicole's Thursday Five this week. Click the link if you want to join in on the fun!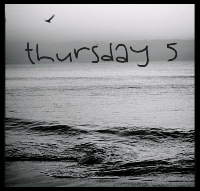 I had a

delightful

conversation with my hubby tonight! I just downloaded the Tango app for my iPhone, so I could video chat with him using my phone and our bathroom mirror. Pretty nifty!
I am

happy

that there are only 17 days until spring break. I am ready for a vacation!
It would be

superb

if I could actually follow through on some of the healthy lifestyle changes I've been wanting to make. Starting with eating more fresh fruits and veggies, drinking 8+ glasses of water a day, and hitting up the gym!
I wish some of the

gorgeous

weather from last week would come back! I'm ready for summer...
I feel very

loved

that Dustin called in to check on me and the cats today. I sure am going to miss that boy for the next three weeks!