These cookies are like all the best parts of fall rolled into one delicious cookie! Pumpkin, oatmeal, dried cranberries, and white chocolate chips all make an appearance in these cookies. I have to admit, I found this recipe as an effort to clear out some space in the pantry. We had a giant can of old-fashioned oats and a big bag of Craisins that have been taking up valuable space! I searched for oatmeal + craisins in the Pinterest search box, and voila!
Here is the original photo from Annie's Eats of the original cookies.
And here is the recipe...
Pumpkin Oatmeal Cookies
Ingredients
1 c. butter, at room temperature
1 1/2 c. old-fashioned oats
1 c. white chocolate chips
1 c. craisins (dried cranberries)
Directions
1. Beat butter, brown sugar, sugar, egg, and vanilla in a stand mixer. Gradually add in pumpkin, and then dry ingredients.
2. Using a spoon, mix in oats, chocolate chips, and craisins until just mixed in evenly.
3. Use a large spoon to portion out mixture on baking sheets covered in parchment paper.
4. Cook at 350 degrees for 12 - 14 minutes, or until cookies begin to brown.
Yum! I am linking this post up with the following link-ups: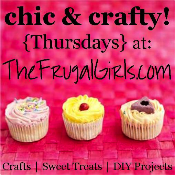 ;